Description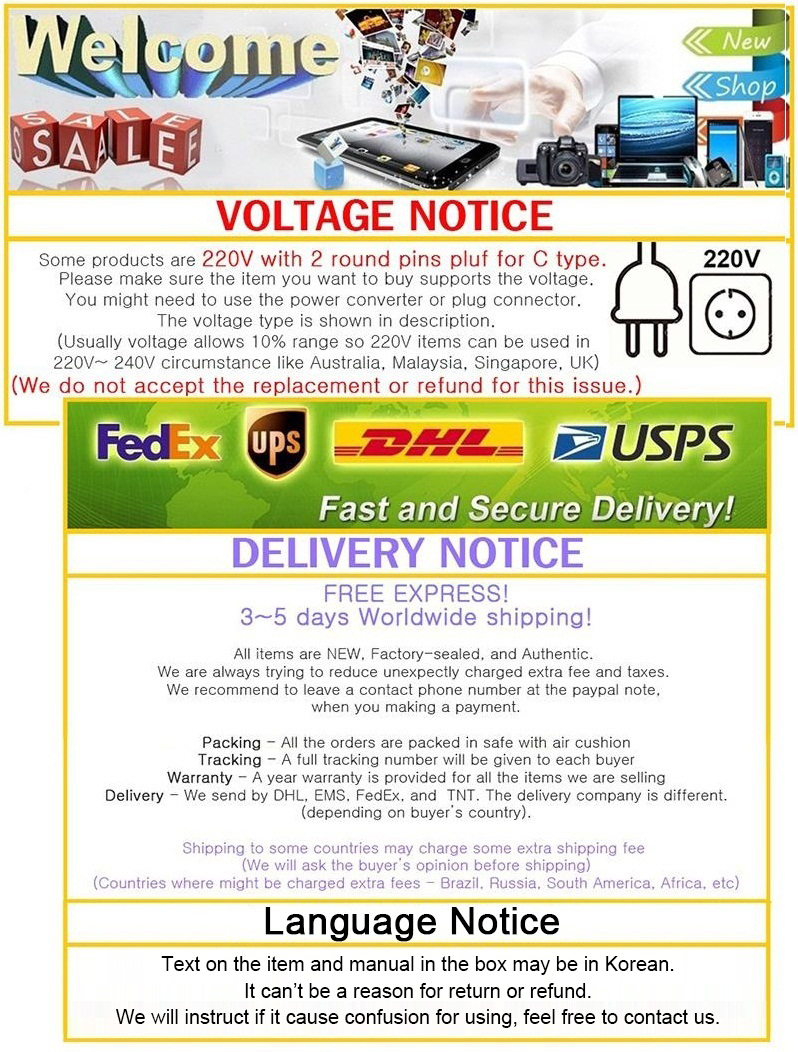 VOLTAGE : Battery Operation

InBody H20B
BIA measure list : bio-impedance(Z) : 5kinds from every 2 frequencies(20,100)
10kinds of impedance from body parts
(right,left arm / right,left leg / body)
Electrode method : 4 pole 8 points touch elctrode
measure method : DSM-BIA
body composition calculation : empirical argument exclusion
result list(LCD screen) : weight, body fat(%), muscle(%), visceral fat level
(body fat, BMI, basal metabolic – app,web)
using current : 100
power consumption : DC 6V(1.5V AA battery 4EA)
screen : customized LCD
color : soft white
size : 310.3(W) x 356.4(L) x 58.3(H) mm
weight : 2.7kg
measure time : impedance measure in 5 sec
play environment : 10~40℃ , 30~75%RH, 70~106kPa
keeping environment : -20~70℃, 10~95%PH, 50~106kPa (No Condensation)
measure weight : 10~150kg
height range : 50~300cm
Payment
We gladly accept the payments by Paypal and Credit Card.
Return
Always we try to give great satisfaction to our buyer.
We only accept REPLACEMENT or REPAIR for models which have originally defectsor obvious misrepresentation in the description.
When returning an item, a buyer will have to send it to us within 14 days after receiving the item.
Return for buyer's misunderstanding
Return or Replacement is NOT accepted for the buyer's misunderstanding.
If the buyer just change his or her mind to go back the item, there will be 15% of restocking fee charge.
All returns will have to be fully discussed with us. Feel free to contact in case you have any problem.
Issue in transit ( Damage , missing item )
we have to ask a favor for an accident in transit.
a buyer who receive a damaged ( or missing ) item in transit has to report the case to the delivery company at buyer's location with the proof of damage.
and we will be able to do our best to get to the bottom of the trouble smoothly.
all the buyers who follow our direction will receive full refund or enough compensation for that.
Warranty
All the products are under one Year warranty from the manufacturer of every item.
Customs
Customs taxes may be charged by customs in buyer's country. The entire duties and taxes don't seem to be included in the selling price and our company,
we , as a seller. don't seem to be responsible with that. We at all times try to save taxes for buyers.
If you buy item from other country, Feel free to contact. we will be able to guide kindly.