Description
Detox Tea – Helps with Bloating and Constipation
Great for a Detox Cleanse or Colon Cleanse
Weight Loss Tea with 50g of All Natural Loose Leaf
HEY GIRL, CLEANSE : Body cleanse , colon cleansing , cleanse detox ; Whatever cleanse you wish to have help with, this will help purify your body from waste and toxins.
CAFFEINE FREE : Steep loose tea in any tea infuser or tea bag and drink this tea detox after dinner or before bedtime. It's caffeine free, so sleeping won't be an issue, promise.
100% NATURAL LOOSE LEAF TEA : Senna , Honey Bush , Burdock , Dandelion , Black Walnut , Rose Hips , Lemongrass , Sarsaparilla , Nettles , Alfalfa , Milk Thistle , Grapefruit Peel , Orange Peel , Fennel , Ginger , Natural Flavoring
THE HEY GIRL PROMISE : Babe, you're our BFF. If there is anything with the tea detox you weren't happy with, simply talk to us and we'll replace your product or give your money back! No questions asked because we hate drama as much as you babe.
Are you feeling bloated?
OMG…We wish to fix that with CLEANSE.
Cleanse is a loose leaf tea blend created to help women around the world detox their bodies and help with their weight loss.
Think of Cleanse as a personal trainer helping you get to your weight loss goals. After you learn how to do the entire exercises properly, you probably might not need the trainer as much. Maybe just an occasional session every so frequently for maintenance.
Let Cleanse help you get to your weight loss goals.
———————————————————————————————
***Take a look at my other listings for top of the line products at unbeatable prices at the ExcessDiscount eBay store!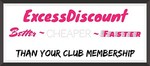 BUY WITH CONFIDENCE
Shipping
Shipped via USPS First Class same day or next. If the order weighs over a pound, your package will be shipped USPS Priority Mail Free of any additional Charge. You are going to receive your order FAST – ETA is 3 days!
Return Policy

Return Rules

We accept returns for money back or exchange if more is available. Please use the return address it was shipped from. Each item returned will have to be in its original condition. Item will have to be brand new/unused, unworn and undamaged. Item showing signs of wear will not be accepted for refund or exchange.

We offer 30 Days no question asked money back guarantee. Item will have to be returned in its original condition unused. Buyer is responsible for safely return of the item and shipping. Email us to unravel any issues.

You're assured an all around positive experience when shopping with ExcessDiscount. Guaranteed.

Contact us

If you have any question about your item, shipping status, please feel free to send us a message via eBay. We can answer your email within 24 hours.

Feedback

If for any reason you're anything other than satisfied, please contact us with the issue, and how you ideally would find it irresistible resolved.

If an issue occurred, please give us a chance to make it right.
You're assured an all around positive experience when shopping with ExcessDiscount. Guaranteed.