Description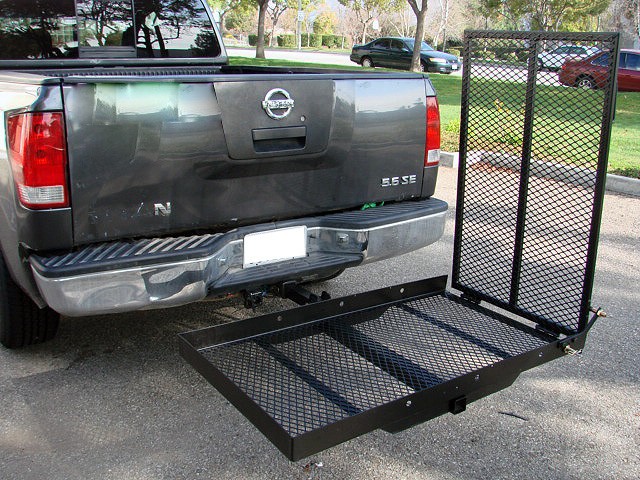 WHEELCHAIR HITCH CARRIER RACK WITH RAMP
ITEM#: T-NS-SCC001
Condition: Brand New
Quantity: 1
Weight Capacity: 400 lbs
THIS IS THE PLATFORM & RAMP ALL IN ONE & IT JUST SLIDES INTO THE HITCH ON BACK OF THE CAR. This wheelchair carrier is designed to allow easy loading and transporting of your wheelchair, scooter or other item. The wheelchair carrier features an integrated ramp which fold up and out into 3 different positions.
The first position keep s the ramp folded flat to the carrier surface and held down with a spring pull pin. The folded flat position is to keep the ramp self stored and secured when the carrier is folded up. The secound ramp position allows the ramp to rise up straight when a mobility device is at the carrier. The ramp is held vertically in place with a spring pull pin. The last position is the ramp unfolded. This position allows for scooters or power wheelchairs to be pushed or driven up the ramp.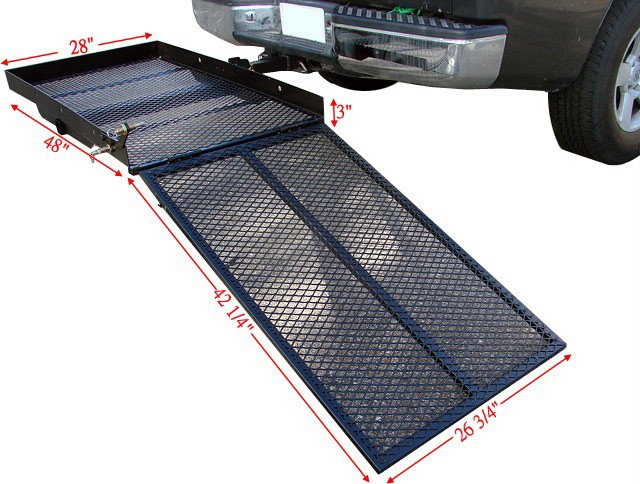 Features:
Heavy duty steel construction
Durable black powder coated finish
Platform dimension : 28 X 48 inch
Total length of ramp when expended is 42 1/4 inch
Total weight of carrier 75 Lbs.
Weight of ramp (gate) 16 lbs .easy to lift
Weight Capacity of Ramp: As much as 400 lbs
Has a 3 inch safety rail
Fits all 2″ Receiver, hitch class III or IV
Folding ramp may also be locked flat when not in use
Heavy duty folding hitch makes our carrier more rigid and stronger.
Folding ramp is easily locked upright with double
Heavy duty internal spring loaded pull locks
A welded maintain featured at the ramp allows for simple folding and unfolding
Tie down straps will also be hooked onto any of the tie down holes featured at the ramp sides
Note: Mobility devices don't seem to be to be occupied when loading, unloading, or at the carrier! Never exceed the rated capacities of your hitch.
Anti-Wobble isn't included.
Shipping is by the use of FedEx ground to Lower 48 Continental U.S. States only
Assembly instruction for your reference